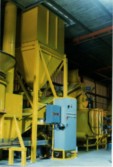 The business is suitably located in the Lockyer Valley, a rich agricultural region referred to as "the salad bowl of Australia".
The purposely designed ultra-modern, computer-controlled manufacturing facility has been designed to produce Lucerne Crumbs (the only known product of its type in Australia) and Cat Litter.
The closely controlled manufacturing conditions ensure that production is cost efficient and product quality is uniform. Our facility's packaging and distribution system has been designed to market products in either bulk or a range of bagged products.
Our range of feed pellets and crumbs are ideal for horses, cattle, sheep and pigs among other livestock.
Lucerne is a leguminous plant grown mostly as a stockfeed, yet because of its high nitrogen and potassium levels, it is also an ideal organic garden fertiliser.
The high potassium content in luncerne is great for flowering crops, and lucerne's nitrogen content is among the highest in the plant kingdom. All nutrients present in All Natural Lucerne Mulch are readily available and released over long periods for sustained growth and a healthy, flourishing garden.
In 1991 Lockyer Lucerne Products Pty Ltd were the National winners of the Australian Small Business Awards, endorsed by the Department of Industry, Technology and Commerce and presented by the Advance Australia Foundation.
Lockyer Lucerne Products Pty Ltd , was purchased by East Coast Woodshavings in 2006 and we are committed to providing our valued customers with the best service and competitively priced lucerne products.